Are you interested in building a relationship with one of Denver's top companies and leading employer? Looking to engage in an opportunity to connect with top executives (CIO and others) and learn more about an immersive summer internship program? Then join the University Career Center for An Evening with Arrow Electronics on February 15th from 6:00 – 8:00 pm in Maglione Hall (5th floor) of the Sie Complex! Enjoy a night filled with great conversations and connecting to Arrow executives and employees to learn more about their company and summer internship availability. Did we mention there will be a free dinner?! Want to learn more about all the great benefits to engaging with the global company that is Arrow? Check it out here!
There are so many benefits to making meaningful connections with an employer in this setting, no matter where you are at in the career and internship search!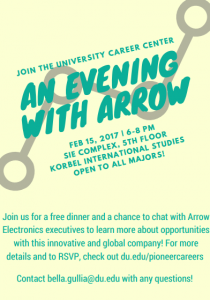 The world will be different in 5 years and so will you. Arrow is innovating and looking for students that possess the talent that can operate in a world that doesn't quite exist yet…the world of 5 years out.
Arrow is so very excited to meet YOU! It is with great excitement that we invite you to join us, your faculty, and Arrow Electronics for a great evening around delicious food and great conversation to build your connections and make a meaningful difference with this globally engaged and innovative company. Space is limited therefore, RSVP is required. Please do so through the Pioneer Careers events page. If you have any questions about the event, please contact bella.gullia@du.edu.